NUXE is committed to preserving the planet
At each stage of the production of the products, NUXE combines quality with respect for the environment.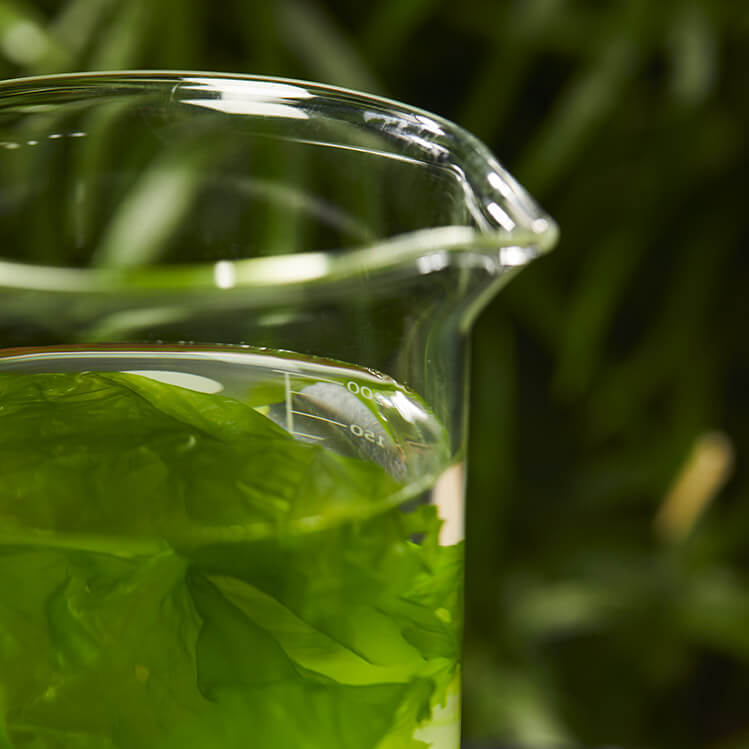 Our environmental commitments Protecting nature.
Conserving natural resources is a major concern for NUXE. This approach is reflected at each step of the design process for our skincare products, from selection of natural active ingredients to packaging and formulation.

The art of sourcing
The geographical origins of active ingredients in NUXE skincare products are fully traceable. Furthermore, we are committed to prioritising crops over wild harvesting and prohibit the use of CITES regulated materials (protected plant species).

Responsible formulation
We are designing rinse-off formulas which are more than 80% biodegradable, to limit the environmental impact of our products. We do not use plastic microbeads in our exfoliators (in compliance with regulatory requirements), but only natural-origin exfoliant particles.

Our formulated products are also kind to animals: our formulas are vegan and do not contain any ingredients or derivatives of animal origin (except for our Rêve de Miel® which contains hive derivatives) and we do not carry out animal testing, in compliance with current European cosmetic regulations.

Responsible packaging
NUXE's environmental commitment also applies to our product packaging, thanks to our exclusive eco-designed 50-mL jars made from recycled materials, with an optimised weight. According to a life cycle study conducted in 2018, our eco-designed 50-mL glass jars generate yearly savings in terms of resources equivalent to water consumption by a single French person over a two-year period⁽¹⁾, the destruction of 244 trees⁽²⁾ and emissions from a car making 28 trips around the world⁽³⁾.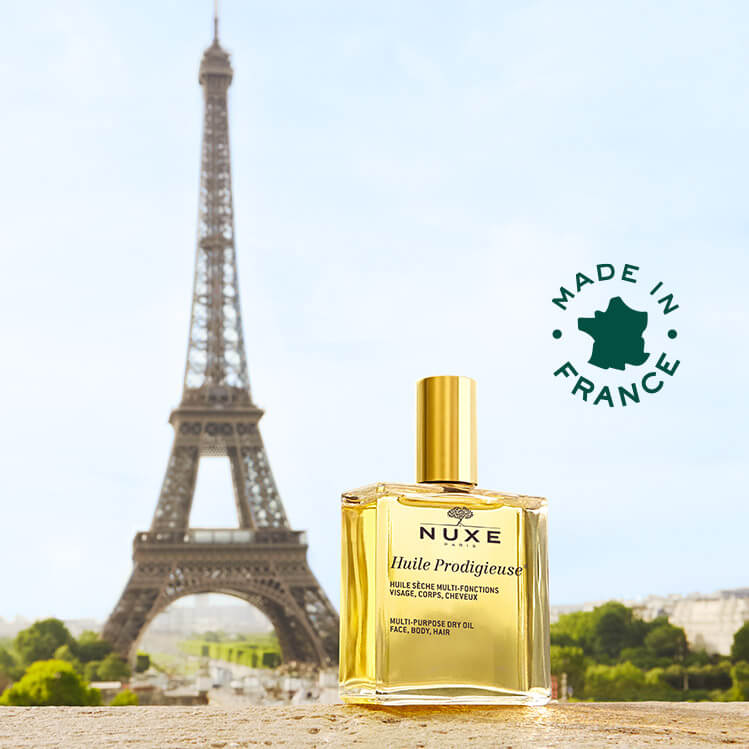 Made in France
Manufacturing high-quality skincare products in France.

We pay utmost attention to the quality of our products, from design in our laboratory to manufacture.

NUXE Research & Development is embodied in our team of passionate researchers, a profusion of skills and expertise in various fields: botany, chemistry, skin biology, pharmacognosy, formulation, perfumery, etc. Quality and Innovation are the key words, allowing NUXE to be part of the tradition of excellence in French pharmacy*.

NUXE skincare products are expertly and stringently formulated in our French laboratory. 100% botanical oils are used, with priority constantly given to natural-origin ingredients. The formulas do not contain any animal-origin** ingredients and the preservation systems selected guarantee safety and tolerability. Each formula is routinely tested under dermatological supervision by independent laboratories approved by the French Ministry of Research.

All NUXE products are made in France, mainly at the exclusively owned industrial site in Lécousse, Brittany, the flagship of NUXE production. It employs 70 staff and has its own physicochemistry and microbiology laboratory. Fully renovated in 2017, the site was extended and high-tech equipment was purchased allowing production capacity to be increased, while maintaining an impeccable level of quality.

This strict attention to quality continues beyond the NUXE laboratory and production facility: the Cosmetovigilance Department handles customer feedback daily with a view to responding immediately in the event of a product alert.
*French cosmetics sold in pharmacies.**Excluding hive products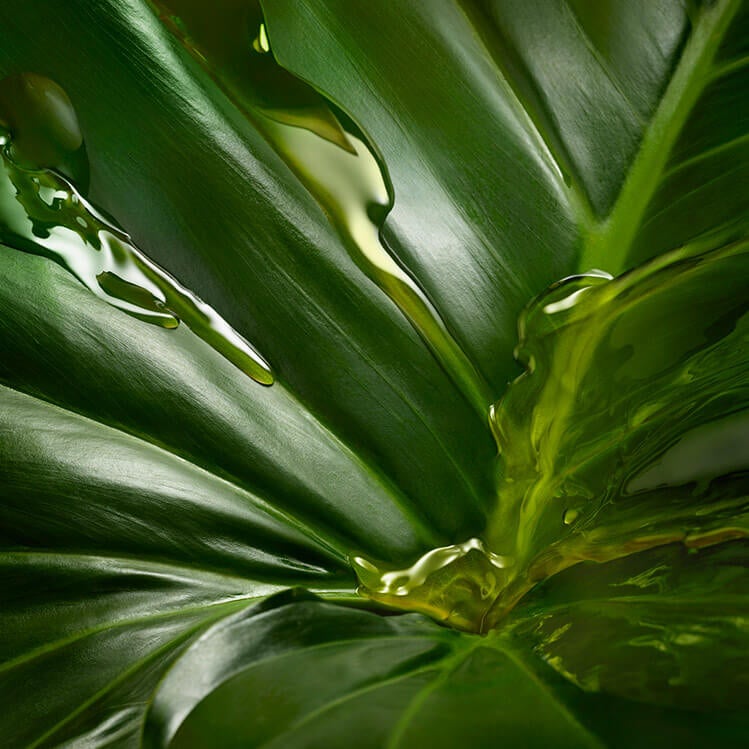 100% vegetarian care, 90% vegan care
From the very beginning, animal welfare has been one of our values.
100% of our NUXE products are vegetarian, i.e., they contain no animal ingredients. 90% of our products are also vegan (formulated without ingredients or derivatives of animal origin). Only the Rêve de Miel® range contains beehive products (honey, wax, etc.). Additionally, according to the vegan philosophy and in compliance with applicable European regulations, NUXE does not test any of its finished products, or their constituent ingredients, on animals.

Did you know?
NUXE is taking action to protect flora and fauna. In particular, we are supporting effects to protect bees by sponsoring beehives with the association Un Toit pour les Abeilles (A home for bees) since 2010. We are also working to combat plastic pollution on coastlines with the association OCEANOPLASTIC, to preserve the oceans and the marine species who inhabit them. Find out more about our partners.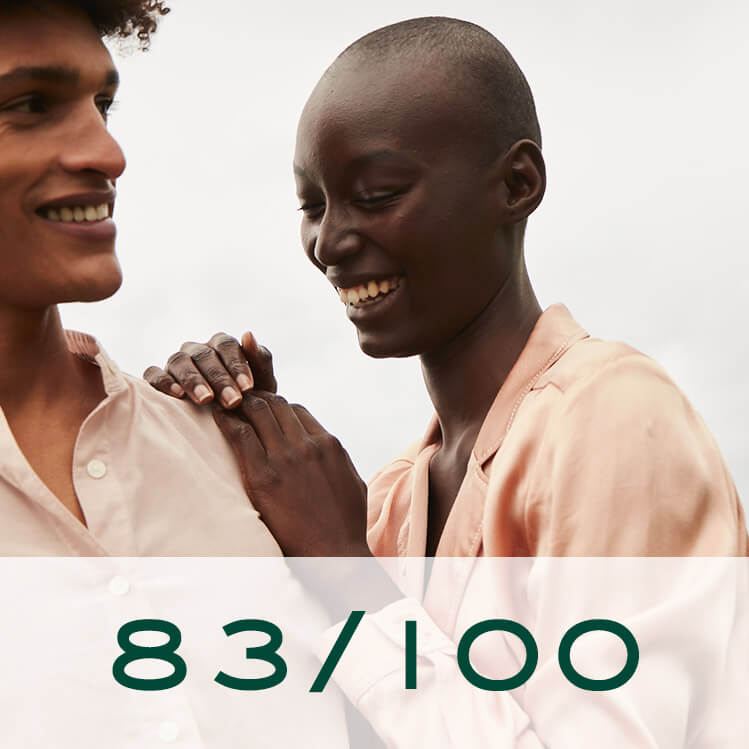 Act for gender equality
Founded by a bold woman entrepreneur, the NUXE Group has many women among its employees. The company has always been committed to professional equality in its workforce and since 1 September 2019 has published its male-female equality index with a total of 83/100. It is continuing to build on this very good score with the ultimate aim of achieving 100/100.

We are also taking action for the planet by actively supporting our association and institution partners: the GoodPlanet Foundation, Un Toit pour les Abeilles (A home for bees), OCEANOPLASTIC, 1001fontaines and Agence du Don en Nature.
⁽¹⁾ Proven on the SPF10 Oil, SPF30 Oil, SPF30 Delicious Cream, SPF30 Delicious Lotion, SPF20 Milky Spray and After-Sun Hair and Body Shampoo
⁽²⁾ An average French person consumes 165 litres of water each day. Source: http://www.planetoscope.com/consommation-eau/243-litres-d-eau-consommes-par-un-francais.html
⁽³⁾ Based on the hypothesis that it takes 20 trees to produce 1 t of cardboard: http://www.ecoresponsabilite.ademe.fr/n/les-enjeux-du-papier/n:290.
⁽⁴⁾ Commuting emission factors by type of trip per km (mainland France) in grams of CO2 equivalents for a combined cycle = 69.9 geqCO2. Carbon Footprint. Emissions factors guide. V5. 2007.