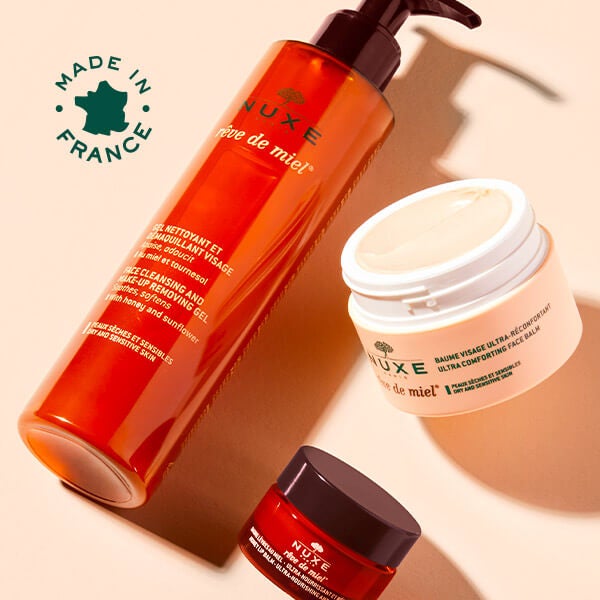 Rêve de Miel
Discover the amazing repairing power of Honey and envelop your skin in comfort with these ultra-nourishing care products.
Added to your basket
Sorry, there seems to have been an error. Please try again.
Subtotal: ( items in your basket)
Added to your basket
Sorry, there seems to have been an error. Please try again.
Subtotal: ( items in your basket)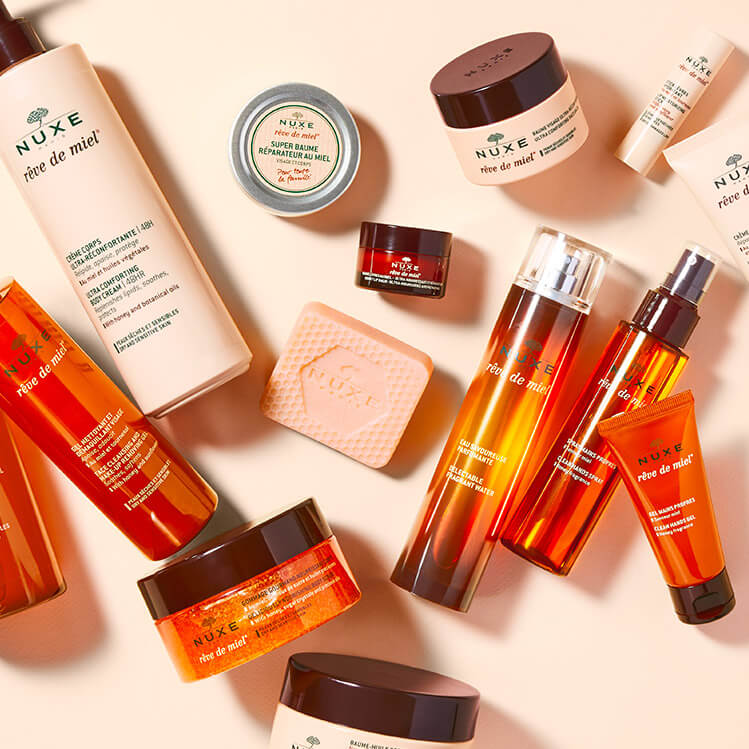 NUXE Research
BRING COMFORT TO YOUR SKIN, FROM HEAD TO TOE
Captivate your skin with the comforting properties of honey, the star active ingredient of the NUXE Rêve de Miel face and body care range. This pure natural treasure is blended with precious botanical oils renowned for their nutrient and softening properties on dry to very dry skin.

This iconic range also stands out due to its extraordinary generous textures: velvety, melt-away, luxuriant textures with delectable scents, which softly embrace the skin.
Proven results:
Immediately after applying Ultra-Comforting Face Balm, women felt their skin was intensely nourished. After 28 days of use, women felt their skin was plumper (+77.3%)⁽¹⁾, soothed (+65.82%)⁽¹⁾ and replenished (+55.29%)⁽¹⁾.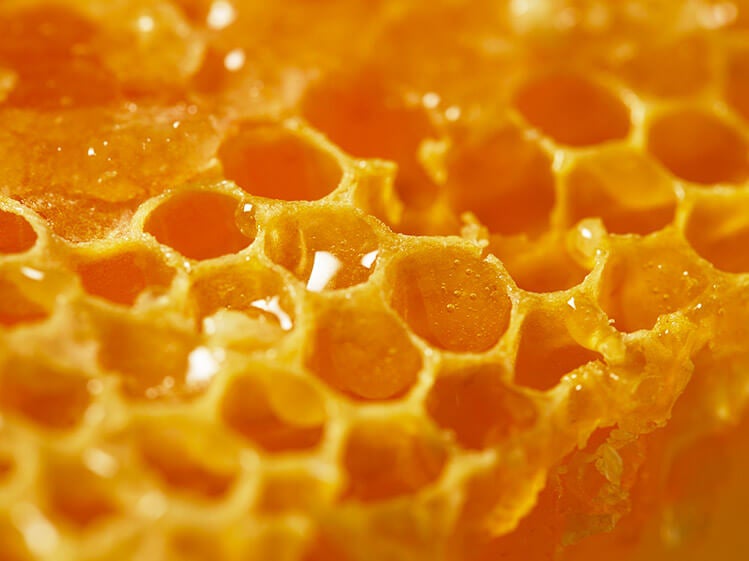 Star Ingredient
HONEY
Both complex and wonderful, Honey is the ultimate gift that nature has to offer. It is the result of an alchemy between nectar from flowers gathered by bees and the transformation that takes place within the beehive. Used for millennia for its sweetness, honey is renowned for it's numerous therapeutic benefits: toning, antiseptic and, above all, healing. Women were already using honey as a beauty product in ancient Egypt and Rome. Its high sugar content and comforting beneficial effects are real precious assets in cosmetics, to help care for dry skin.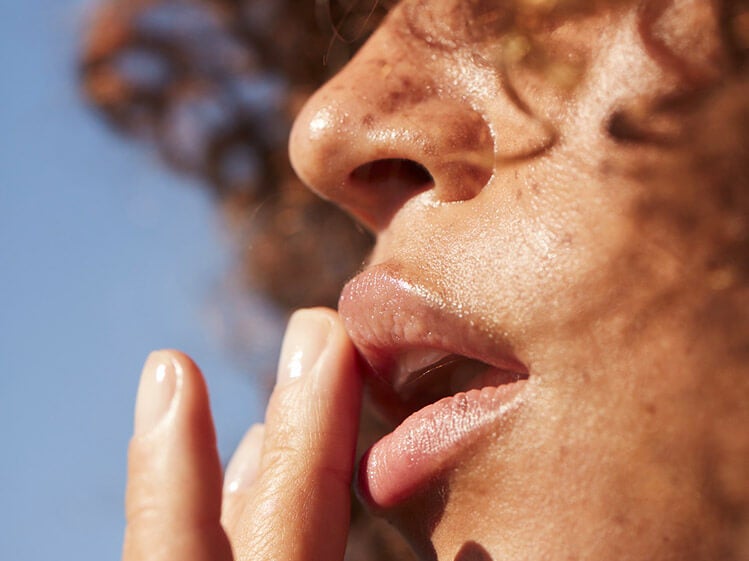 What Rêve de Miel skincare routine should I adopt?
When taking a shower, morning and evening, cleanse your face and body in a single step with Ultra-Rich Cleansing Gel. Wash your hair with Gentle Shampoo Bar, leaving it soft, silky and easy to detangle.
After showering, immerse yourself in the nutrient properties of Ultra-Comforting Body Cream 48 HR which offers your skin lasting comfort. If your skin feels very dry, use Melting Honey Body Oil Balm with its lipid-replenishing properties and rich formula to soothe irritation. Finish your beauty ritual by spritzing your skin with Delectable Fragrant Water, leaving voluptuous honeyed notes in your wake.

Apply Ultra-Comforting Face Balm to your face, to protect your skin from harsh external factors (wind, cold, etc.) and nourish your lips by applying Ultra-Nourishing and Repairing Honey Lip Balm. Apply Hand and Nail Cream to your hands whenever the need arises.

In the evening, Face Cleansing and Make-Up Removing Gel is ideal for eliminating impurities, before applying Ultra-Comforting Face Balm to restore softness and comfort to the skin. Before slipping between the sheets, apply a generous layer of Ultra-Nourishing and Repairing Honey Lip Balm for super-soft lips when you wake up.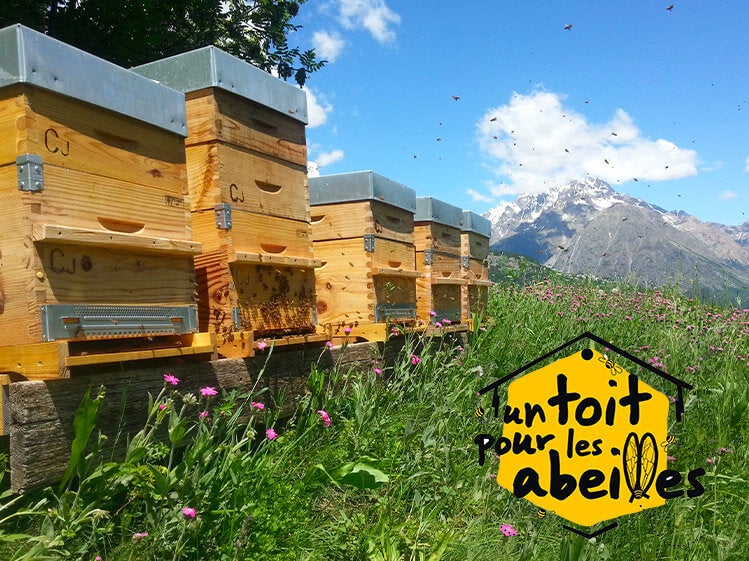 Un Toit pour les Abeilles (A home for bees)
For NUXE, honey is also about sustainable development.
Laboratoire NUXE has always drawn its inspiration from nature and made biodiversity one of its major concerns.

Bees, pollinating insects which are essential for the reproduction of more than 80% of plant species, are now threatened with extinction, which would have a dramatic effect on the ecosystem. This is why NUXE is supporting efforts to protect bees, by working with ""Un toit pour les abeilles"".

This association sponsors hives located in the Vosges area of France, with the aim of encouraging the establishment of a new colony in the region, helping to protect bees and increase their numbers.

About Rêve de Miel
Hydration is key to soft and beautiful skin. NUXE developed the Rêve de Miel range by paying close attention to the needs of dry skin.
Thanks to ingredients like Honey and Precious Oils, Rêve de Miel range is a pure delight for all skin types, enveloping you in the delicate scent of Honey!

To meet the needs of dry and sensitive skin, NUXE has created a broad range of nourishing care for the face and body: a gentle shampoo, day and night creams, a nourishing body cream, an ultra-rich cleansing gel, hand and foot creams, a makeup remover and cleansing gel, and lip balm.

Let yourself succumb to the unique texture and subtle Honey and Grapefruit fragrance of the Lip Balm Ultra-Nourishing , one of our bestsellers! This lip balm nourishes, repairs, and protects dry, damaged lips.

To gently cleanse your skin, use the soap-free Makeup Remover and Facial Cleansing Gel , which cleanses and soothes skin in one go , with the cozy scent of Honey. These ultra-nourishing products are a pure delight for dry and sensitive skin.

Clean Hands Gel and Clean Hands Spray are the perfect everyday accessories to keep your hands clean, at home and at work. It combines the practical with the pleasant, thanks to its delectable scent with honey and citrus notes.
Use the Rêve de Miel sulphate-free Gentle Shampoo Bar ⁽²⁾ to gently take care of your hair. This essential NUXE product washes your hair, leaving it easy to detangle, veiled in a light honey scent.
Discover the Rêve de Miel scent: this Fragrant Water with orange blossom and honey notes will take you on an olfactory adventure with its woody tones: Sandalwood and Tonka Bean.
⁽¹⁾ Improvement % assessed by volunteers after 28 days of using the Face Balm.
⁽²⁾ No sulphate surfactants.