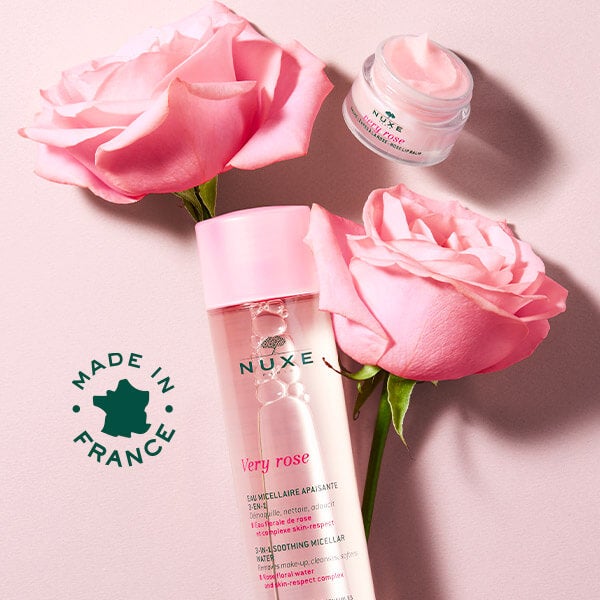 Very Rose
Cleanse and gently remove make-up from your skin with these gentle and effective care products with Rose Floral Water.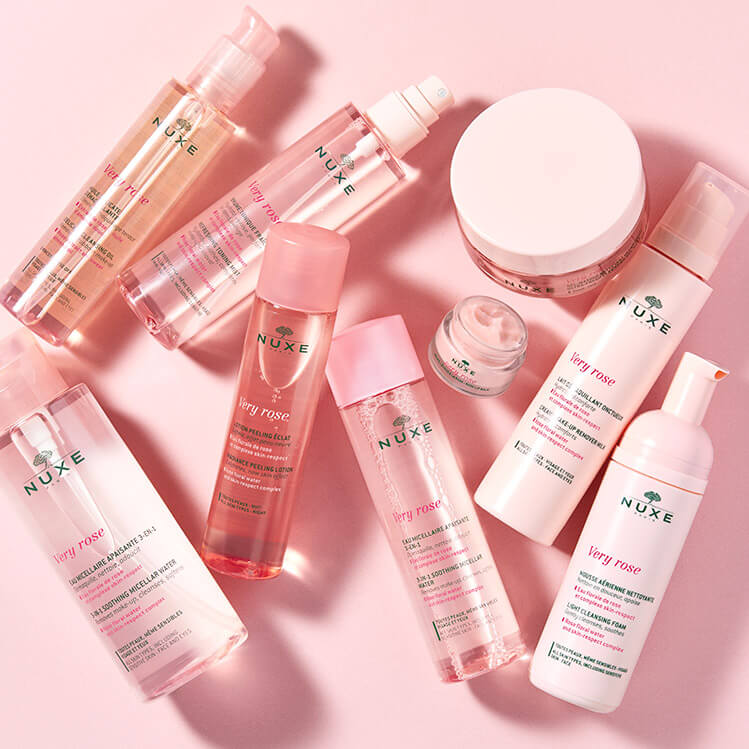 NUXE Research
Gentleness, effectiveness and pleasure.
The Very Rose range cleanses skin and removes make-up gently and effectively thanks to the soothing properties of Rose Floral Water 1 and the moisturising power of the 100% botanical-origin Skin-respect complex 2, together with a unique signature on the skin combining the exquisite voluptuousness of the textures with the sophisticated sweetness of the scent.

Gentle, effective and vegan make-up removers and cleansers.
Very Rose offers the perfect compromise between high effectiveness and respect for the skin's balance, in vegan formulas2 with a physiological pH3 close to that of the skin. The formulas contain only essential ingredients, including a rigorous selection of cleansing agents that effectively remove everyday impurities.

Textures and scents to bring a rosy glow of pleasure
Very Rose transforms make-up removal and cleansing into real well-being experiences, thanks to a rich palette of textures. The selection includes a solution tailored to every habitual preference (rinse off or non-rinse, quick-and-easy application, etc.) and every sensorial preference (foam, milk, oil, gel, etc.). Their formulas all feature the same subtle rose1 scent, as fresh and delicate as a petal.


Proven results
- 96%5 of women feel their skin is effectively cleansed.
- 95%4 feel their skin is softer and more comfortable.
- 91%5 feel impurities (make-up, excess sebum, etc.) are removed.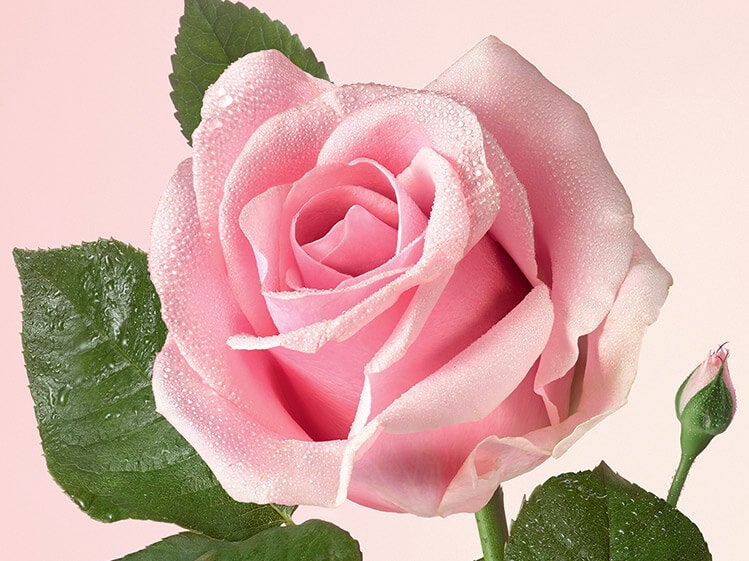 Star Ingredients
ROSE FLORAL WATER
At the heart of the Very Rose1 cleansers and make-up removers, Rose Floral Water, a gift from nature, provides a gentle and soothing action for all skin types, including very sensitive skin.
This botanical hydrolate is obtained by steam distillation of whole roses. Find out more

A 100% botanical-origin Skin-Respect complex
Selected for its moisturising properties, the Skin-Respect Complex1 is made from 100% botanical-origin Sugars.
These sugars have the ability to retain water deep inside the skin, increasing its moisture reserves. They strengthen the skin's barrier function, helping to prevent dryness and preserve its balance.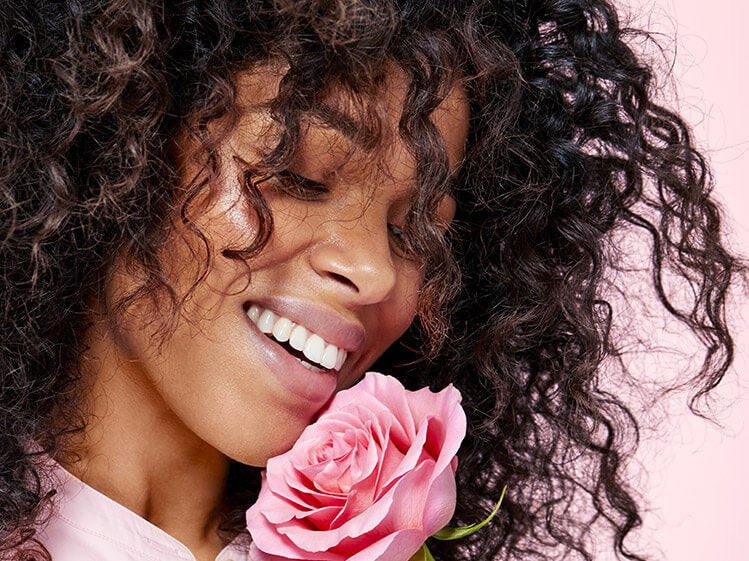 Very Rose beauty routine
Why is it so important to remove make-up thoroughly?

Every day, our skin produces sebum and sweat which remain on its surface. We then add make-up on top of this. Our skin is also in constant contact with the outside environment and accumulates numerous impurities over the course of the day, including particles of pollution.
Removing make-up every evening and cleansing in the morning are essential habits to keep your skin clean and purified.

If you regularly neglect these rituals, your complexion will start to look less luminous and your pores will become blocked, potentially leading to the appearance of imperfections.

Cleansing and removing make-up also help to prepare your skin to derive maximum benefit from subsequent skincare products.


About the Very Rose range
Laboratoire NUXE has developed the VERY ROSE range of make-up removers and cleansers with Rose Floral Water which is known for its ability to soothe and soften the skin. A wide range of formulas and textures to meet every wish: micellar water, cleansing milk and lotion for women who like to use cotton pads; make-up removing oil, cleansing foam and gel mask for those who prefer cleansing with water…
For a very comfortable beauty routine, NUXE offers a selection of make-up removing and cleansing skincare with a delicate rose scent, to select according to your preference:
Make-up removal

The micellar water removes make-up, soothes and cleanses skin on the face and eyes, removing make-up and impurities in a single step. It is available in two versions: the soothing micellar lotion for all skin types and the micellar water with moisturising properties for dry to very dry sensitive skin.
The cleansing oil removes even the most resistant or waterproof make-up while protecting skin from limescale and respecting its balance. Its silky texture transforms into a milk to allow easy rinsing with water, without leaving any greasy film on the skin.
The cleansing milk and moisturising mist are used together: the cleansing milk gently removes make-up from the face and eyes thanks to its "milk-in-oil" texture. The moisturising spray for the face is then ideal to complete make-up removal and refresh the skin.
Face cleanser

The face cleansing foam gently cleanses and soothes skin without drying it out.
The face cleansing gel is a novel gel mask that is left on for one minute before rinsing with water, to cleanse skin deep down and remove particles of pollution.
Facial exfoliant
Inspired by expert rituals, the peeling lotion with fruit acids provides gentle daily exfoliation, progressively removing dead skin cells for a "new skin" effect day after day.
1) With the exception of the Delicate Cleansing Oil.
2) Vegan formula with no ingredients or derivatives of animal origin.
3) With the exception of the Radiance Peeling Lotion.
4) Use test on the 3-in-1 Hydrating Micellar Water - 21 volunteers. Satisfaction % after 28 days.
5) Use test on of the 3-in-1 Hydrating Micellar Water - 23 volunteers. Satisfaction % immediately after application.