Tsubaki
Absolute beauty of the geishas.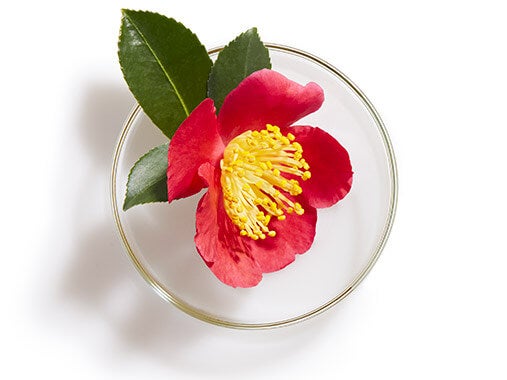 Background
Meaning "flourishing camellia" in Japanese, Tsubaki is an evergreen shrub with dark-pink to red flowers. Native to Asia, Tsubaki is a delicate plant that prefers to be sheltered from wind and frost in order to blossom.

Its traditional properties
Tsubaki flowers are used for decoration in the Japanese tea ceremony and its precious oil has represented the geisha's absolute beauty for centuries, used to protect, nourish and moisturise their skin and hair.

NUXE expertise
NUXE uses Tsubaki Oil derived from seeds sourced from Cheju Island, one of 7 new wonders of nature situated in the Korean peninsula. It is obtained by cold-pressing Tsubaki flowers, a process which yields a high quality botanical oil, and was selected due to its high levels of omega-9, a major constituent of sebum and lipids found in hair. It therefore helps to preserve the skin's barrier function and improve the hair's shine.

As Tsubaki is particularly sensitive to oxidation and therefore delicate, Laboratoire NUXE has selected a Tsubaki oil which benefits from its own antioxidant protection system, made possible by the incorporation of natural vitamin C. This therefore helps the oil withstand oxidation more effectively.

An environmentally-friendly active ingredient
Tsubaki Oil is obtained by cold-pressing the seeds, an environmentally-friendly process using no solvents or chemicals. Related products Tsubaki is found in all types of Huile Prodigieuse®: Huile Prodigieuse®, Huile Prodigieuse® Florale, Huile Prodigieuse® Riche and Huile Prodigieuse® Or.