Borage Oil
The blue star with nourishing and moisturising properties.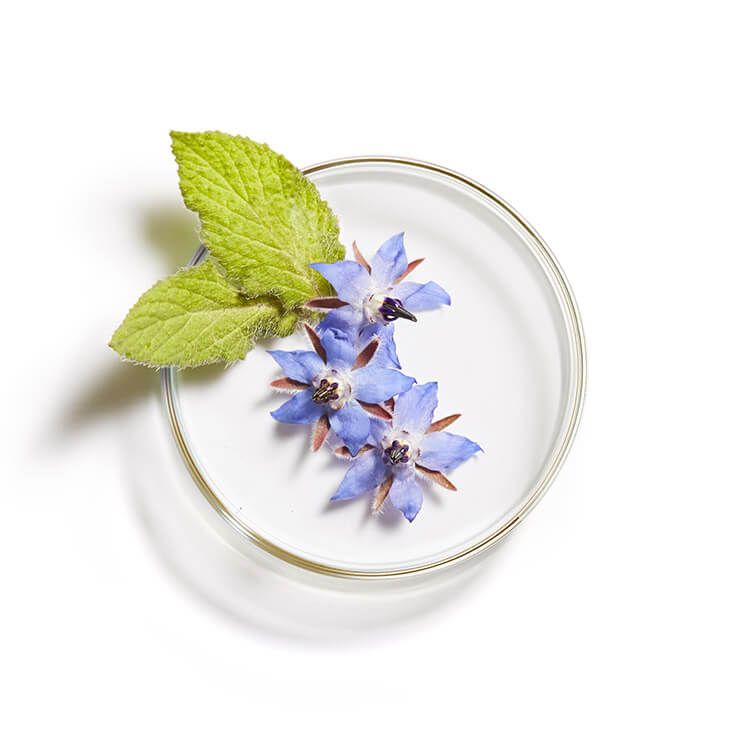 Where does it come from?
A long, straight stem bristling with hairs, graceful blue star-shaped flowers, Borage is a herbaceous plant that grows wild along roadsides. Native to the Mediterranean basin, it appreciates the heat but adapts perfectly to the temperate climates of Europe.

Its traditional properties
With a long medicinal tradition, Borage has been used since Antiquity for its many toning and energizing virtues. It thus contributes to the regeneration of the skin and also has anti-wrinkle properties. Borage is also an edible plant and its young leaves are eaten in salads or soups.

NUXE expertise
NUXE has selected a Borage Oil resulting from a first cold pressing of its seeds, an extraction process making it possible to obtain a vegetable oil of high quality and particularly rich in unsaturated fatty acids, in particular in omega 6. This high concentration is all the more interesting as omega 6, the level of which decreases with age, play an essential role in the barrier function of the skin. Borage Oil thus restores elasticity and suppleness to the skin.

Our ecologically responsible approach
NUXE has selected Borage Oil resulting from a simple cold pressing of the seed, a green process that does not use solvents or chemicals.

Related products
Borage is found in our iconic Huile Prodigieuse® and its variations in Huile Prodigieuse® Floral, Huile Prodigieuse® Or and Huile Prodigieuse® Riche, as well as in Rêve de Miel® Ultra-Comforting Face Balm. , Rêve de Miel® Melting Body Oil-Balm with Honey and Rêve de Miel® Gourmet Nourishing Body Scrub.